Shabbos
The entire Editorial Board of Klal Perspectives will join together for a Klal Perspectives Shabbos in Baltimore, MD on February 19-20, 2015 for an engaging series of panel discussions and lectures. More info below. All events at Congregation Bnai Jacob Shaarei Zion.
Click HERE to register for the Friday night meal.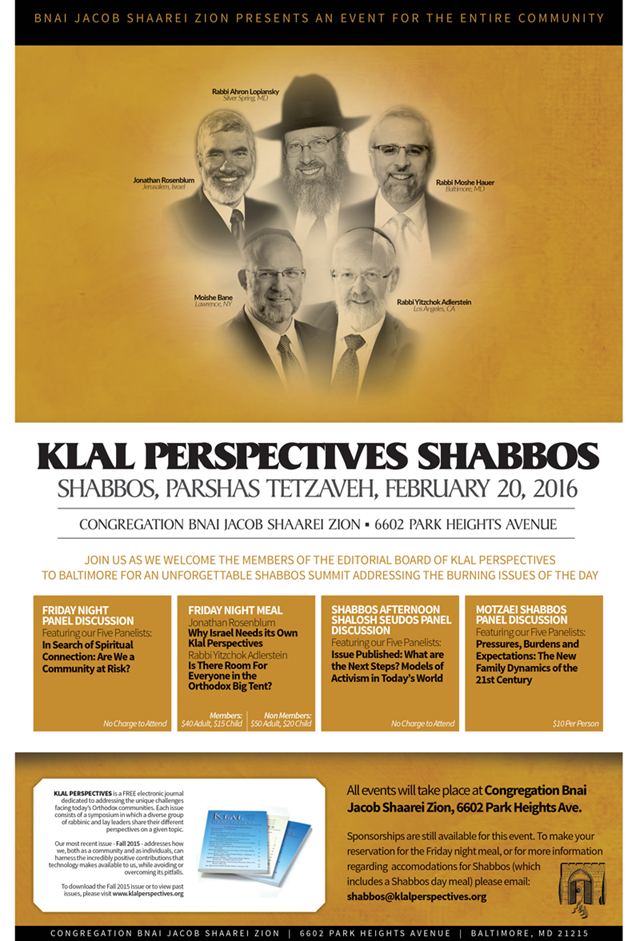 To make your reservations for the Friday Night dinner (members $40 per adult & $15 children and non members $50 adult & $20 children) Click HERE or email shabbos@klalperspectives.org. Shabbos hospitality is available.
Schedule
(Following shul)  Friday Night Dinner: Featured speakers will be Jonathan Rosenblum ("Why Israel Needs a Klal Perspectives") and Rabbi Yitzchok Adlerstein ("Is There Room For Everyone In The Orthodox Big Tent?").
8:30pm  Friday Night Panel: In Search of Spiritual Connection: Are We a Community at Risk?
5:00pm  Shabbos Afternoon / Shalosh Seudos Panel: Issue Published: What are the Next Steps? Models of Activism in Today's World (follows Mincha at 4:30pm)
8:30pm  Motzaei Shabbos Panel: Pressures, Burdens and Expectations: The New Family Dynamics of the 21st Century
There is no charge to attend the panel discussions on Friday night or Shabbos afternoon but there is a $10 charge to attend the panel on Motzaei Shabbos.