Home
KLAL PERSPECTIVES  is an electronic journal dedicated to addressing the unique challenges facing today's Orthodox communities. Each issue consists of a symposium in which a diverse group of rabbinic and lay leaders share their different perspectives on a given topic.
Input from throughout the community is welcome so we can all work together to further the conversations and to develop broad-based strategies for meeting the challenges of our times. Email letters@klalperspectives.org.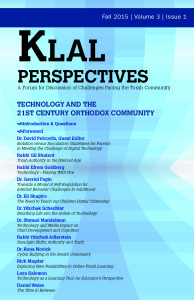 To view the Fall 2015 issue online,
CLICK HERE for the Introduction and Questions
…or CLICK HERE to go straight to the Responses.
To download a print-optimized PDF, CLICK HERE.
To download a PDF for viewing on a screen, CLICK HERE.
TO ORDER A PRINT COPY, CLICK HERE.
Our Previous Issues